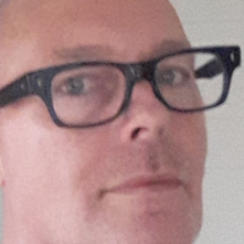 Chris Saunders at IFFR
Chris SAUNDERS (UK, n.d.) studied filmmaking at PCL and Fine Art Media at The Slade and works primarily with moving images. His practice "combines film, text, image, found footage, documentary and fictional narratives to externalise inner states as visible realities of often obscured social relations and institutional practices that impact collective and individual transformation".

He has exhibited his work at: The London film festival, The Palais Des Beaux Arts in Brussels, Film Anthologies Archive New York, Tate St.Ives, Centre Pompidou and many more.

More info: chrisfranksaunders.uk
Filmography
(selection, all short) CCTV (1993), Long Walk (1994), Revolutionary Cleaner (1995), Annabel (1995), Melancolony (2015), The Deep West (2016), Memory Block (2016)